Although I may be remiss in calling our recent Hawaiian vacation a "Big Island Babymoon" – it was really just our Summer vacation – it has a nice ring to it so I'm going with it. It most certainly will be the last time we travel somewhere far away during my pregnancy so in that sense it was a Babymoon!
We typically take a Summer vacation in Europe, but since I'm pregnant, I was adamant about staying in the US. Having been to Oahu and Maui six years ago and knowing we wanted to go back to Hawaii, we decided on Kona, or the Big Island. At 24 weeks pregnant, I was nervous about the long flight and being so far away from home, but after talking to my doctor, doing some research and consulting with friends who had made a similar trip, I felt better about it. Instead of one long flight, we decided to break up the trip with two shorter flights – stopping in LA for a night each way. We also bought first class seats instead of relying on an upgrade which made the trip a lot more comfortable. Those two things alone were game changers.
On our first stop in LA, we stayed downtown at The NoMad Hotel to make it easy to get to and from the airport. We relaxed at the rooftop pool, had cocktails/ "mocktails" at 71 Above for the views and the sunset and the next day I hit up The Bar Method DTLA before we left for the airport.
In Hawaii, the resort we would have liked to stay at wasn't available for the length of our stay so we ended up staying at The Fairmont Orchid. You know I keep things real on this blog and I will say we were underwhelmed and won't stay at another Fairmont property after this experience. However, we were able to rent a car on site which was convenient. Overall, we had a relaxing vacation and enjoyed seeing yet another Hawaiian Island.
My pregnancy did limit some of the activities we did – shorter hikes, no boat excursions (just my personal preference) or helicopter rides (something David really wanted to do). One thing to note about the Big Island – there are two sides. The rainy side, Hilo, and the sunny side, Kailua, which is where we stayed. We ventured over to the rainy side once and got caught in a torrential downpour.
What We Did
Like I said, my pregnancy kept us less active than usual on our Big Island Babymoon, but we still managed to see a few sites and take advantage of the hotel gym.
Rainbow Falls: Took a drive to Hilo, the rainy side of the island, to see Rainbow Falls – an 80 foot waterfall that flows over a natural lava cave. At times a rainbow can be seen in the falls.
Volcanoes National Park: After Rainbow Falls we continued onto Volcanoes National Park, also in Hilo. While I couldn't hike the sulfur banks (pregnant women and people with asthma are advised to stay clear), we did walk the steam vents and from there could see the large crater.
Pololu Valley: Pololu Valley starts with a breathtaking coastline overlook before giving way to a steep hike down to an even more breathtaking black sand beach. The hike back up is steep but shorter than the way down and promises a reward of fresh coconut water at the top.
Snorkeling: Our hotel had really good snorkeling on the private beach so we spent a few lazy afternoons engaged in this pregnancy-safe activity spotting colorful tropical fish and a few sea turtles.
Lounging: It goes without saying that we spent a lot of time relaxing pool or beach-side soaking up the sun and a good book.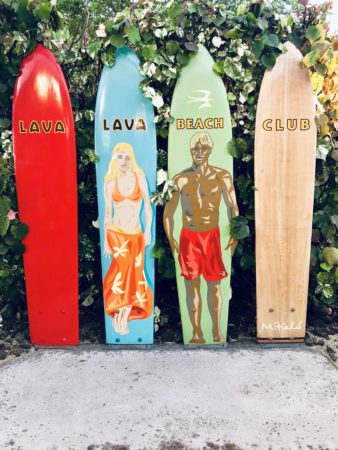 Where We Ate
I wouldn't say the food was terribly impressive but we did find a few gems.
Beach Tree: A casual beach-side restaurant with Italian-inspired fare on the grounds of the Four Seasons Hotel.
Ulu Ocean Grill: Also on site at the Four Seasons, this is the spot for fresh seafood and sushi overlooking the ocean.
Lava Lava Beach Club: A super-fun, casual vibe and good food. Get there early to get your name on the list (or call ahead) and catch the gorgeous sunset.
Daylight Mind Coffee Company: A clean and cozy spot for breakfast or lunch – the portions are huge and the food is healthy.
Hawaii is a magical place and we were so glad to have experienced Kona on our Big Island Babymoon. Would we go back? Probably not. We still have a few other Hawaiian islands we'd like to see and would choose to go back to Maui over The Big Island.